** New Listing **
Prairie Crossing Subdivision, Unit 3 Beecher
52 finished single family lots in Beecher, Illinois. No SSA, streets are finished and dedicated to the village. All utilities are in place. Area of nice homes, near Cardinal Creek golf course.
Property Details
** New Listing **
Diamond Industrial Land
30 acres of Industrial zoned land in the Village of Diamond, Illinois. 1180 feet of I-55 frontage with easy access to both IL. Rt. 113 to the north and Reed road to the south. Either exit is only minutes away. The Illiana expressway, Ridgeport Inter-Modal and a proposed Coal City Inter-Modal are surronding this site.
Property Details
** New Listing **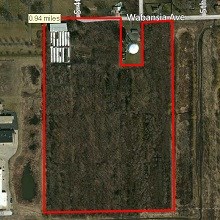 22 Acre King Development Site
Nice location in area with commercial and residential development potential. Montgomery's comprehensive plan has this parcel as Office/Research. Former green house nursery business, with remaining machine shed and greenhouses. Montgomery will consider apartments on this site. Apartment zoning would allow 12 units/usable acre. Detention would be onsite. Easy access to shopping and transportation.
Property Details
** For Sale **
Plano 96 Acre Industrial Site
This an excellent
industrial site with access to a BNSF rail spur
currently serving the Menard's distribution center.
Property Details
Search Properties
What's News
Slight Reduction In Overall Land Values
05/22/2014

According to the Federal Reserve Bank of Chicago Ag Letter dated May of 2014, there has been a slight reduction in overall land values since fourth quarter of 2013. This is the first quarterly decrease in land values in... Read More
About Us
---
Goodwin & Associates Real Estate, L.L.C. was formed in 1996 by Mark Goodwin, a University of Illinois graduate and vocational agriculture teacher. His firm numbers among the best real estate firms in the area for buyers and sellers of farm, commercial, development and residential land. Read More